You'll rest before it does
From sunrise to sunset, the work around your property never ends.
That's why we offer the Bull Series Utility Task Vehicles (UTVs).
Our UTVs work as hard as you do. So whether you choose the standard Bull model with three seats, or the Longhorn model with six seats, you'll have a UTV that's the right size for your needs. At the jobsite, out in the field, or running on trails, Yanmar UTVs provide power, handling and comfort beyond compare.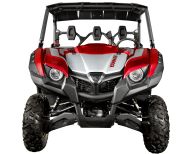 Bull Model
Any job. Anywhere. Anytime.


Seats three adults in one row
686cc gasoline engine
Quickly switch between two-wheel and four-wheel drive
11.8 inches of ground clearance
Learn more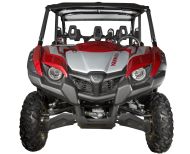 Longhorn Model
More space for you and your friends.


Seats six adults comfortably in two rows
686cc gasoline engine
Tru-Torq® continuously variable transmission
Tilting cargo bed
Learn more
How do you use your land?
How you use, maintain and sustain your property is entirely up to you. But you will need the tractor, attachments and UTV that best match what you do with your land. Answer these 10 questions and you'll receive recommendations tailored to your unique needs.
Take the quiz
Born tough: See the all-new Yanmar UTVs
Make a long day in the field feel much shorter with the Bull Series power and comfortable ride.
See the top features and durable design that make Yanmar UTVs the way you'll get more work done faster.
Plan for the land of your dreams
Walk through everything you need to successfully start and manage life on your rural property. Map out your goals for the land. Identify the equipment and tools you'll need to accomplish your goals by reading "A Landowner's Planner".
Get the planner
How to pick the right UTV for your land
There's a lot of work needed to make your rural lifestyle a reality. A new, helpful book called "Your Buyer's Guide" will assist you in successfully managing your property. Find the right UTV and attachments for you.
Read the guide