Semi-Cab - YU1000D-SC
With a built-in front windshield, standard wiper system, and rear window protection, it doesn't matter how wild the terrain. The under-seat storage space we added can be used for anything – except a clean pair of jeans. With this UTV, you'll stay fresh and dry no matter how dirty the job.
Work and live outside
Built with work capabilities as the top priority, the BRAHMA is a purebred work machine with uncaged hauling and pulling power that emphasizes ride quality, handling, and ultimate driver comfort. Never worry about where to put your gear again.
Electric power steering
1,000 lbs bed capacity
2,000 lbs towing capacity
Adjustable ride height HPG shock absorbers
The BRAHMA sets the bar with class-leading storage options that include underhood and under-seat storage as well as side bin compartments, not to mention the 17 cubic ft all-steel cargo bed box. Look like a pro wherever you go with standard automotive-style tail lights with turn signals and flasher lights. If you're still not impressed, take a look at the BRAHMA's towering and class-leading ground clearance of 12.2" or sit in one and enjoy the fully adjustable seats and ample legroom.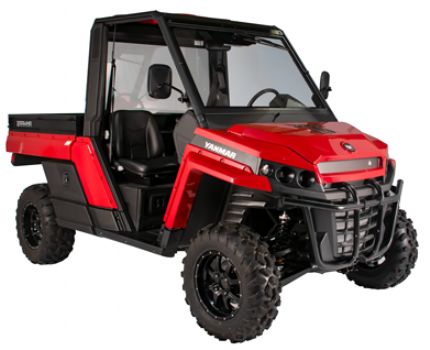 Specifications
Powertrain
| | |
| --- | --- |
| Bore and Stroke in. (mm) | 74 mm x 77 mm |
Capacities
| | |
| --- | --- |
| Bed Capacity | 1000 lbs. |
| Fuel tank | 10.57 U.S. gal. (40 L) |
| Towing Capacity | 2000 lbs. |
| Wet Weight** - includes vehicle with all standard equipment and fluids, including oil, coolant and a full tank of fuel. It does not include the weight of options and accessories. | 1848 lbs. |
Drivetrain
Brakes
Front (lbs) 10.1-in disk with twin piston brake caliper
Rear (lbs) 8.7-in disk with twin piston brake caliper
Drive Train
4x4/2x4, rear diff lock
Suspension (front)
10.6 lbs.
Suspension (rear)
10.2 lbs.
Transmission type
CVT
Dimensions
| | |
| --- | --- |
| Ground Clearance | 12.2 in. |
| Overall Height | 77.7 in. |
| Overall Length | 134.4 in. |
| Overall Width | 65.2 in. |
| Wheelbase | 88.1 in. |
Tire size
| | |
| --- | --- |
| Tires (front) | Standard / 26x9 R14 |
| Tires (rear) | Standard / 26x11 R14 |
Warranty and service
Your purchase of a new Yanmar UTV from an authorized dealer includes a six-month warranty. Optional extended coverage can be purchased separately.
Authorized Yanmar UTV dealers are the preferred service centers. Other Yanmar dealers may be able to support with parts and service on a case-by-case basis.
How to pick the right UTV for your land
There's a lot of work needed to make your rural lifestyle a reality. A new, helpful book called "Your Buyer's Guide" will assist you in successfully managing your property. Find the right UTV and attachments for you.
Read the guide
How do you use your land?
How you use, maintain and sustain your property is entirely up to you. But you will need the tractor, attachments and UTV that best match what you do with your land. Answer these 10 questions and you'll receive recommendations tailored to your unique needs.
Take the quiz